>> Location 1/2
In The Heart of the Ethernal City

The apartment is located in the heart of the historical centre right in front of the Colosseum, which can be seen from the main bedroom window (picture on the right). Many of the most famous city monuments, such as Domus Aurea,
the Forum, Arch of Constantine, Circus Maximus, the Palatine Hill are within easy walking distance. Piazza Venezia, the famous square with the Altare della Patria, the Trajan's Column and Palazzo Venezia, is also a short stroll away. Walking up via del Corso, other historical sites such as Pantheon, the Trevi fountain and the Spanish steps are located.
To locate the apartment on a city map please visit the apartment > Get the map.



The Basilica of santi Quattro Coronati.
Via dei S.S. Quattro is also well known for the famous Santi Quattro Coronati cloister, which was listed in the World Monuments Fund in 2000.According to tradition, the first church was built in the 4th century by Pope St Miltiades (311-314). It is thought to have been founded in the 5th century. Pope St Leo IV (847-855) rebuilt as a basilica. This was the first church in Rome to have a non-Italian titular; Dietrich of Trier was appointed titular in 975 by Pope Benedict VII. In 1914, Giacomo della Chiesa was the titular of this church. In the same year, he was elected pope and took the name Benedict XV. The current titular of the church is H.E. Cardinal Roger Michael Mahony, Archbishop of Los Angeles. For more information on this Basilica please visit: Extras > Links > In Italy Online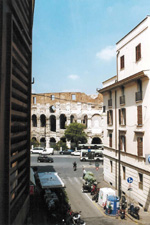 via dei S.S. Quattro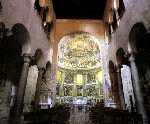 Basilica dei S.S. Quattro